by
admin
on Monday, March 21st, 2016 |
Comments Off

on CSFA Legislative Update – March 21st, 2016 from Ted Schroll, Jr.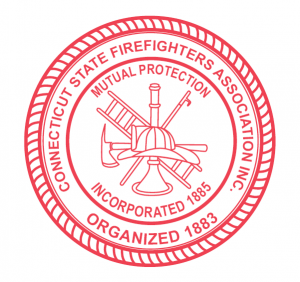 CT House Bill Status Report from our Lobbyist Ted Scroll, Jr.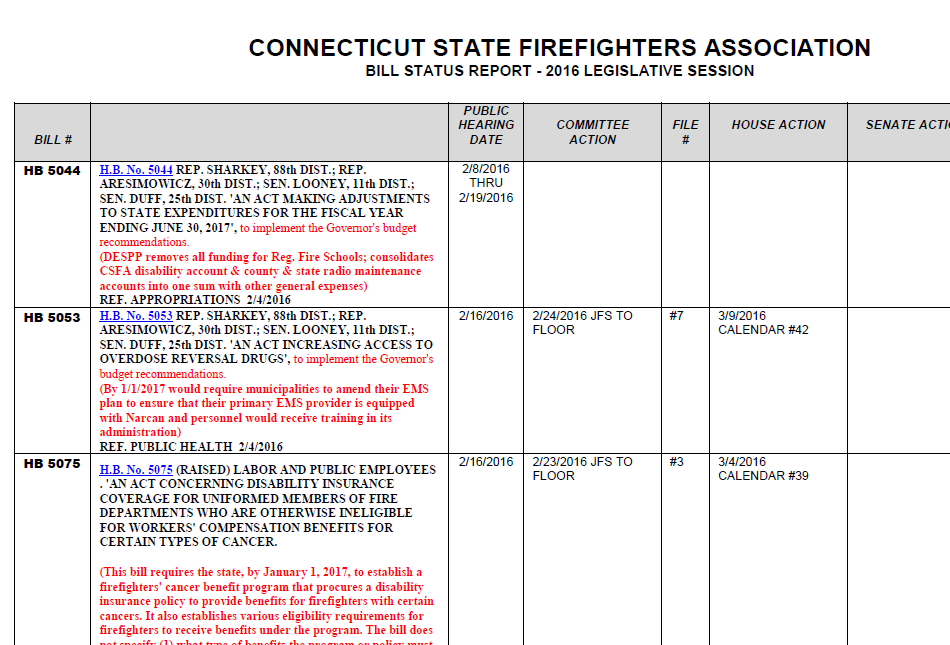 (Click the link below to see the entire report)
CSFA House Bill Status Report March 21st, 2016
All,
Many bills were JF'd (moved out) of committee this week.  One bill of particular interest is H. B. #5518.  This bill would place a surcharge on a persons homeowners or renters insurance of one half of one percent ( .5% ).  This sum would be used to fund the operating budgets for the regional Fire Training Schools.  The bill started with a 1% surcharge and after funding training, it could have been used to fund equipment purchases for fire departments.  A compromise was agreed to lower the surcharge to .5% and remove the portion that would fund equipment purchases.  The bill was then moved out of committee.
The group that is working on the firefighter cancer bill (H. B. #5262) is still meeting.  Some language has been studied, but not all are in agreement yet.  Hopefully we shall see some information within the 1-2 weeks.
One item I believe that I did not mention last week is H. B. #5544.  Similar to last year, this bill would require municipalities with a population of less than 40,000 and receives less than 12,000 E-911 calls per year would be required to consolidate PSAPs by 7/1/2020 or face a loss of E-911 Commission support, both equipment and funding.
Activity this past week:
H.B. #5274, #5365, #5406, #5411, #5412, #5463, #5518, #5546, S.B. #367, #388, & #423 were all JF'd out of their committees.
H. B. #5262 & S. B. #134 were placed on their respective calendars.
H.B. #5267, #5269, #5299, #5327, #5549, & S.B. #167 are expected on their respective calendars this coming week.
If any questions on any other bills, I am available by email.  Report will be separate.
Ted Schroll Jr., Legislative Representative
Connecticut State Firefighters Association
703 Ridge Road
Wethersfield, CT 06109-2634
FAX 860 529-7106
CELL 860 402-3865
Primary Email  thschroll@snet.net
Secondary thschroll78@gmail.com
CSFA Online 2016