by
admin
on Tuesday, December 22nd, 2015 |
Comments Off

on CSFA makes Firefighters' Hazardous Exposure Report available for download.
Firefighters' Hazardous Exposure Report
As Firefighters face more and more potentially toxic contaminants on the job, it is increasingly important to document each exposure.
Fire Departments here in Connecticut should complete a Firefighters' Hazardous Exposure Report. (click link for download)
We know that some Departments already use this form, but many more need to begin to document the hazardous exposure that both Volunteer and Career Firefighters routinely encounter.
Using the Firefighter Hazardous Exposure Report helps to track who was exposed, when they were exposed and to what hazards a Firefighter was exposed while working. The form needs to be signed by either Captain or Lieutenant and Fire Chief.
If your Fire Department is not using Firefighters' Hazardous Exposure Reports, now is the time to start.
Click the link above to download the complete Connecticut State Firefighters Association Hazardous Exposure Report.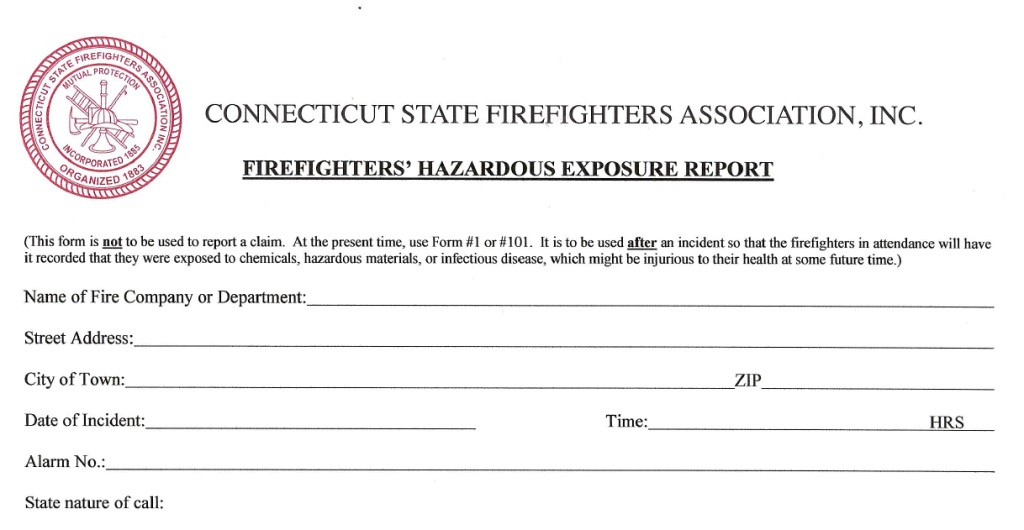 CSFA Online 2015