by
admin
on Wednesday, May 17th, 2017 |
Comments Off

on Special CSFA Legislative Update from Leon Collins, May 17th, 2017

New Fire Service EMS Caucus in Connecticut General Assembly
Representative Pat Boyd and Representative Brian Ohler have collaborated in a bipartisan effort to organize more support the Fire Service in the Connecticut legislature. Ohler and Boyd, are two legislators who are both also Volunteer Firefighters and are actively recruiting their peers to actively participate as members of a Fire and EMS Caucus sent out a letter to all Connecticut legislators today.
Rep. Boyd is a Democrat from the 50th District representing Pomfret, Eastford, Brooklyn, Union and Woodstock). Rep. Ohler is a Republican from the 54th District representing Canaan, Cornwall, Goshen, Kent, Norfolk, North Canaan, Salibury, Sharon and Torrington.
The two representatives sent out the letter below just this afternoon and several legislators have already responded and are eager to participate:
Greetings,


It is with great honor we announce the resurrection of the bipartisan Fire and EMS Caucus.


This caucus previously drove legislation focused on issues critical to the emergency services provided by women and men who are there when our constituents need it most. Today, those dedicated servants face a myriad of new challenges—from budgetary constraints and technological advances to shifting responsibilities driven by societal change in our communities. Fire and EMS personnel deserve a strong and diverse panel of lawmakers that can drill down on this important subset of public safety issues.


Caucus membership is open to any member of the Connecticut General Assembly—House and Senate.


We kindly ask that you reach out to either of us with questions or your intention to join. Thank you all in advance.


Sincerely,


Rep. Brian Ohler (R)

64th House District

Rep. Pat Boyd (D)

50th House District
I will explain more about the new caucus at our CSFA meeting tomorrow evening in Wethersfield.
The Apparatus Bill Passed Today!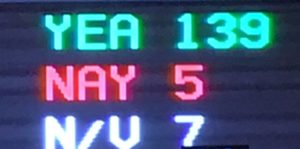 Also, H.B. 7047 ("The Apparatus Bill") passed the House today with this amendment with a vote of YEA 139, NAY 5 with 5 legislators Not Voting. We will report how the bill continues to move forward through the Senate.
Sincerely,
Leon Collins
Legislative Representative
The Connecticut State Firefighters Association
49 Midwood Road
Branford, CT 06405
(203) 494-7842 voice and text
(203) 481-1446 fax
collins@csfa.org email
http://csfa.org website
CSFA Online 2017